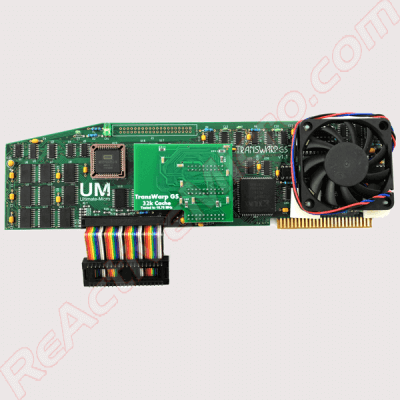 We're glad to announce the TransWarp GS v2 project is going presale!
As announced at KFEST 2016, upon ReActiveMicro's full return to the Apple II Community that year we decided to revise and update the TransWarp GS project. Now after the completion of the TransWarp GS v1.1 project we have learned a lot and can now better gauge demand for a IIgs accelerator. Expected delivery is mid to late 2019. The last TransWarp offering ran late, so your patience and understanding is appreciated if we pass any expected delivery date. This is not a simple or small project. Some even stated it is impossible. We like accomplishing the impossible.
This not a completely new design. We plan to modernize AE's original work and fix some of the timing issues, so you're guaranteed this project will work 100% across all IIgs systems. We're not sure of top speed, however 16MHz will be the slowest we expect from the cards. We also are making it a goal to allow the new card to run without active cooling (fan) so you won't have a slot blocked by a fan. The board will also be smaller and require a lot less power.
Get on the preorder list now! Only $450.00 and comes fully assembled and ready to use out of the box.
https://www.reactivemicro.com/product/transwarp-gs/
---
And as always, be sure to check out our Wiki for more information on projects or for support. And be sure to subscribe to our news feed to be the first to know about our next release!